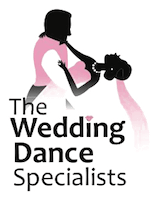 Master Your First Dance and the Special Dances
Having a memorable first dance is important, but what about the other special dances, such as dances with your parents? This package covers them all, and it's our most popular option. In just four lessons, you will master your first dance, learn all the other dances, and have the confidence to shine on the dance floor when all eyes are on you. The lessons will be recorded so you can practice at home.
In one of your lessons, your parents are invited to join the fun.  If they can't make it, that's fine and it just means more time for you!
You may schedule four private 55-minute lessons or combine them into two back-to-back lessons.
Four private 55-minute lessons are $498 per couple
Additional lessons are available for $98 each
Add on a 3-hour group class for only $198 per couple
Lessons are in-person at our studio in Alexandria, VA (our studio in Falls Church, VA is available upon request)